Looney Tunes | Popeye | Betty Boop | Merrie Melodies
Other Colorizations | Experiments | FAQ | Sounds | Links | Credits

A Coy Decoy (1941)

Looney Tune
Directed by Robert Clampett
Story by Melvin Millar
Animation: Norm McCabe
Musical Direction by Carl W. Stalling

Originally Released in 1941
Redrawn Colorized in 1970
Redrawn Colorized by Color Systems Inc.
Digitally Colorized in 1990
Digitally Colorized by CST Entertainment Inc.
"Public Domain"

Plot Summary:

The cartoon opens on a bookshop, with Porky pig singing cowboy songs in a book on the subject. (Yes, for no particular reason this is a books-come-to-life adventure.) Daffy Duck comes off the "Ugly Duckling" to chime in and then goes on about his business. A wolf appears from "The Wolf Of Wall Street", and chases Daffy for the remainder of the cartoon. One of the wolf's tricks is a duck decoy...which eventually produces wind-up Daffy offspring! Porky doesn't think they could "possibly mean anything to each other." one of the kids jeers: "YOU, and your EDUCATION!" by Matthew Hunter




Review:

As a redrawn version, much is lost from this cartoon's quality. Obvious animation shortcuts and errors are everywhere in this. The computer colrized or black and white are much better.



Redrawn version notes:

- Daffy has a light pink ring around his neck.
- In the original version the book says the "Wolf" of Wall Street however in the redrawn Wolf is changed to "Wole."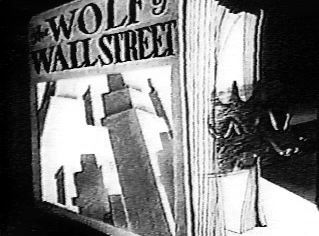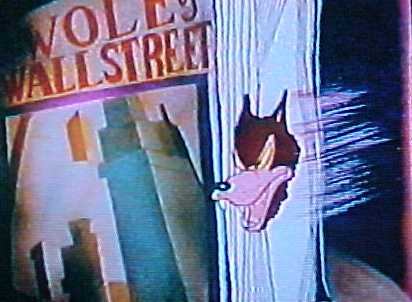 - The female decoy's tail doesn't turn into a hand the picture just freezes.
- Daffy stands on the water!
- Alot of frames freeze.
- Porky's body seems to be turning all the way around.
- The duck decoy children are colored brown (one looses it's win-up screw)
- Orange Iris.
Computer colorized version notes:

- The digital color version has many of the color schemes in the redrawn version (Like Daffy's pink neck and Porky's pink hat.)
- Scene of Daffy riding on a "Black Beauty" is cut on Cartoon Network for obvious reasons.
- The opening WB sheild and Looney Tunes cards were freeze-framed and digitally dissolved into the cartoon. Probably to save time for colorizing.


Comments: